Funky Monkey Smoothie
This peanut butter banana smoothie will
satisfy any sweet tooth and offer
a delicious meal replacement.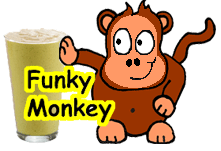 INGREDIENTS
1 Banana
2 large table spoons of Peanut Butter
1 teaspoon unsweetened Chocolate Powder (feel free to use any kind you like)
1 tablespoon powdered sugar
2 cup of milk

INSTRUCTIONS
1. Combine the banana (chill banana in freezer before using) with 1/2 milk, chocolate, powdered sugar and peanut butter. Blend until smooth.
2. Add the remaining milk and blend until smooth..